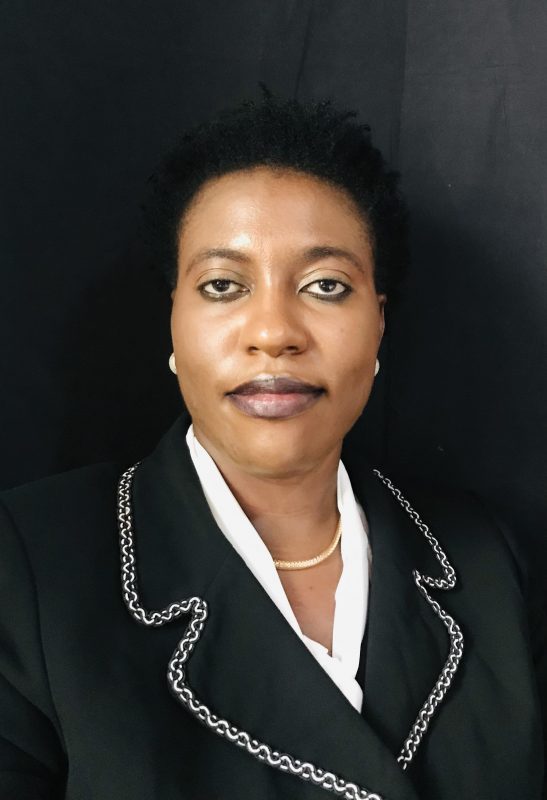 Masters in International legal Studies from Washington Collage of Law, American University, Washington DC, USA, a Certification to Sierra Leone Bar a Bachelor's in English Private Law from the University of Yaoundé II Soa.
 She is an international lawyer and a Gender specialist.  She has over 15 years of International experience in International Human Rights and Humanitarian law, International Criminal  law and Courts, Legal Policies and Gender in conflict and post-conflict Africa. She has investigated, defended, prosecuted and drafted judgments on international crimes in countries like Rwanda, Sierra Leone, Liberia, Chad, Central African Republic, Cameroon, Burundi, Tanzania, Uganda, Kenya. She has worked for the United Nations- International Criminal Tribunal for Rwanda; National Commission for Human Rights and freedoms in Cameroon; United Nations- Special Court for Sierra Leone; on World bank projects in Cameroon and for the United Nation International Commission of Inquiry for Mali.
She has defended, prosecuted and drafted judgements on prominent people in the likes of Charles Taylor, formal Liberian president, military leaders in Sierra Leone, government officials in Rwanda and political prisoners before national and international courts; was Lawyer for the Anglophones arrested  during the Anglophone crisis in Cameroon. Has been Legal officer at  International courts, Assistant Appeals Counsel, Human Rights and Gender expert/ SGBV investigator, trained government institutions, national and international organizations, military, armed groups, civil societies, local communities on Human Rights, humanitarian law, International crimes and Gender issues. Worked on and analyzed issues relating to terrorism in Africa.
Reviewed Cameroon's energy sector laws and Public Private Partnership sector. Expert in designing and implementing Grievance redress mechanism and third party monitoring projects.Expert in designing and implementing Grievance Redress Mechanism(GRM) and Third Party Monitoring (TPM) projects. Adviser on incorporation of International NGOs and declaration of Associations and companies in Cameroon, issues on employment and Labour Law and dispute resolution and Negotiations.
Corporate Governance

Corporate Law and Company Formation

Criminal Law

Contract

Crisis Response

Dispute Resolution

Energy regulation and infrastructure

Environmental law
Human Rights and Gender

International Arbitration

International Criminal law and court

International risk and investigations

Litigation

Labour

Public and Private Partnership