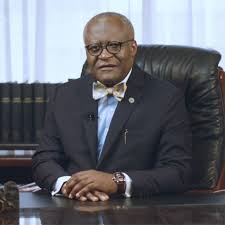 BSc. International Studies from Washington School of International service (SIS), American University  and a Diploma in Maritime Law from the International Centre for Ocean Development Canada – Mohamed V University Rabat, 1990. A.T. MUNA Esq. was called to the English Bar in June 1978 and is a member of the Honorable Society of Lincoln's Inn London.
A.T. MUNA Esq. has over 40 years' experience at Muna Muna and Associates. His practice specialises in anti- corruption and good governance, banking and financial institutions a particular focus on private equity transactions, as well as aspects of corporate finance work
 He has served for seven year as Member of the Bar Council of Cameroon with five years as the President of the Bar. He was Editor-in-Chief for over ten years and later Managing Editor of the Cameroon Bar Association Journal. He was part time Lecturer at the National School of Administration and Magistracy (ENAM), Cameroon and was former President of Transparency International, Cameroon. Was Coordinator of the Coalition of African Chapters of Transparency International. He has presided and has been guest speaker on several conferences on the OHADA sponsored by Paris Bar Association, International Bar Association, World Bank, and American Bank of Commerce. He was Vice Chair, of the board of Directors of Transparency International.  He was President of the Pan African Lawyers Union, and President of the Economic and Social Council of the African Union.
He was member of the African Union Panel of Eminent African Personalities, a member of the High Level Panel on Illicit Financial Flows from Africa and a Member of the Governing Board of the Africa Governance Institute. He is a member of the National Commission against Tax Fraud, a member in the Ad-hoc Committee against Corruption, a member of the Arbitration Committee of GICAM, a member of the International Chamber of Commerce, a member of the Board of Directors of EcoBank and Chairperson of the Vetting Panel of International Association of Athletics Federations. He is adviser to the President of the Democratic Republic of Congo on good governance and fight against corruption. He has handled international transactions, negotiations and arbitration of major international and national concerns and governments. 
Aviation, Arbitration,

Banking and Financial Institutions

Corporate Governance

Debt Finance and Recovery

Dispute Resolution

Mergers and Acquisitions

Maritime Law
Intellectual Property

International Arbitration

International risk and investigations

International Trade Investments

Revenue Law,

Privatization and Mining

Public Private Partnership